WHAT MAKES INVISALIGN® GREAT?
Grosso Orthodontics is pleased to be a top Provider of Invisalign®, a revolutionary way to straighten your smile without wires or brackets. Countless patients are choosing Invisalign® treatment to improve their smile and for good reason. The benefits of the clear aligner system include:
Removability – The removable appliance allows you to maintain your normal diet as well as the good oral hygiene habits of brushing and flossing daily.
Comfort – Starting with digital scans of your teeth, Invisalign® aligners are comfortable. Crafted from thin, translucent SmartTrack® material for maximum comfort and a precise fit, Invisalign® offers reduced gum and mouth irritation.
Appearance – Choosing Invisalign® treatment gives you the freedom to straighten your smile discreetly. With virtually invisible aligners, the aesthetics of Invisalign® make this treatment option ideal for self-conscious teens and adult patients.
Invisalign® patients are finding even more advantages to the clear aligner system such as shortened treatment duration. The average duration of treatment is about 12-18 months, which is significantly less than traditional braces. Treatment length does depend on the compliance of the patient as the aligners will need to be worn as prescribed by Dr. Grosso, at least 22 hours a day for the treatment to be the most effective and produce the best results.
Another great perk to choosing Invisalign® treatment is fewer office visits. During your treatment, you will receive several sets of aligners at one time and usually wear each set about two weeks. Your teeth will gradually move into position and you will only need to come in for a checkup every 6-8 weeks and to receive the next few sets of aligners.
Who is a Candidate for Invisalign®
At Grosso Orthodontics, we offer complimentary consultations to determine if you are a candidate for Invisalign® treatment. After a thorough examination to evaluate your bite and dentition, Dr. Grosso will determine if Invisalign® is the best option for your orthodontic needs. Occasionally, an alternative treatment will be recommended such as traditional braces or clear braces depending on the needs of the patient.
Although not everyone is a candidate for Invisalign®, Grosso Orthodontics will tell you on the same day as your consultation if this treatment will work for you. If you are a candidate for Invisalign®, we will discuss what to expect during treatment and what is required of you as the patient so you can make an informed decision.
How Does Invisalign® Work?
The clear aligner system is custom designed to your unique orthodontic needs. Starting with a digital impression of your teeth, Invisalign® integrates high-tech computer software to help your orthodontist create the optimal treatment plan for you to reach a healthy, beautiful smile.
Your digital impression will be sent off through the computer and your aligners will be manufactured. Each set of aligners is precisely calibrated to securely fit on your teeth during each stage of treatment. You will receive several sets of aligners with Invisalign® and usually wear each set about two weeks. Your teeth will gradually move into their proper position and you will only need to come in for a checkup every 6-8 weeks.
Invisalign® is able to target the most common orthodontic issues, including:
Minor to moderate overcrowding
Malocclusion
Overbite
Underbite
Cross bite
Gaps in between teeth
They key to success using Invisalign® treatment is wearing your aligners at least 22 hours a day — your smile is built on it!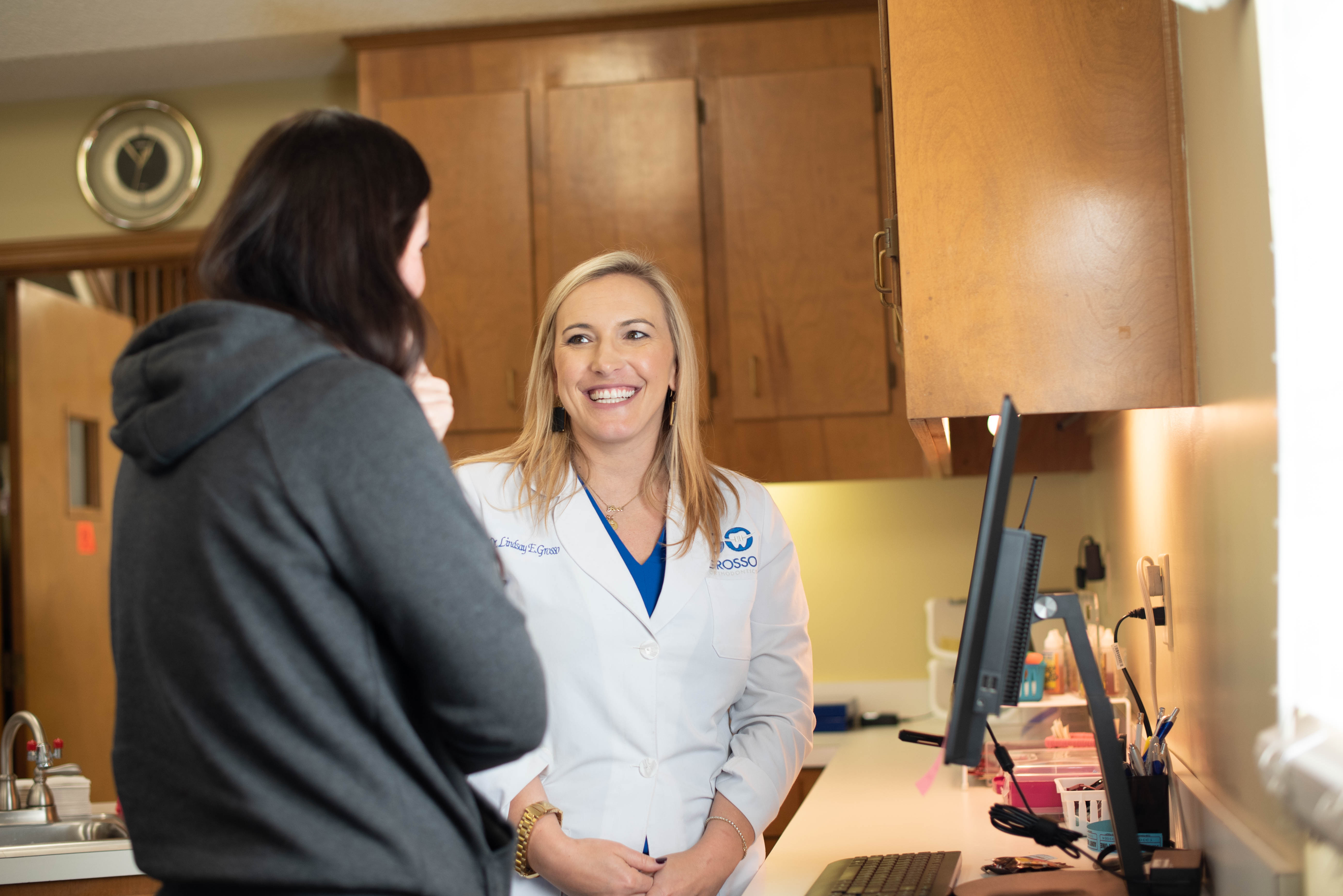 Tips for Keeping Your Invisalign in Top Shape
One of the most attractive features of Invisalign® is the aesthetic quality of being able to straighten your smile with nearly invisible aligners. Grosso Orthodontics offers some key tips on keeping your aligners in top shape to help maintain the clear appearance.
Clean aligners on clean teeth – Ideally, after each meal you should brush the debris from the teeth and rinse the aligners before placing them back in the mouth. If you cannot brush your teeth, we recommend rinsing your mouth with water and placing aligners back in when you feel most of the food particles are gone.
Use the protective case to carry aligners – Grosso Orthodontics will provide you with an aligner case for you to safely carry your aligners with you. This will help prevent loss or damage to the aligners.
Use a soft-bristled toothbrush to clean your aligners – Using a small amount of toothpaste, lightly brush the aligners on the inner and outer surface gently as to not mar the finish of the aligner.
Rinse aligners under cool water – It is important not to place aligners in water that is hot or boiling as it will warp the aligner and will no longer fit into its proper position on teeth.
Some Cleaning
DONT'S
Grosso Orthodontics would like to remind Invisalign patients of some of the 'cleaning don'ts' to avoid during Invisalign treatment.
Do not place your aligners in hot or boiling water.
Do not use abrasive cleaners that might scratch or blemish the surface of the aligner.
Do not soak aligners in mouthwash as it might discolor the aligners making them more visible.
Do not soak your aligners in Denture Cleaning Solution as it is abrasive to the plastic.
Using these guidelines will help keep your aligners in top condition and help sustain the aesthetic appeal of discreetly straightening your smile! We look forward to sharing more information with you about Invisalign® treatment. If you are interested in learning more about Invisalign® and are ready to transform your smile, call Grosso Orthodontics for a complimentary consultation at (843) 821-2003.
REQUEST A COMPLIMENTARY CONSULTATION 
READY TO START YOUR SMILE JOURNEY?
Simply fill out our easy online form. Our team will contact you shortly to schedule your complimentary consultation with one of our doctors and get you started on the journey to your new smile.